Hunting opportunities
Hunt and Travel! Worldwide hunting opportunities
Hungary – Slovenia – Croatia – Spain – Romania – South Africa – Zimbabwe – Namibia – Kyrgyzstan – Turkey – Russia – Argentina – Greenland
We organize trips for hunters with full comfort so you only need to focus on your experience. Near-nature experience, Ibex hunting in the mountains; Buffalo, Wildebeest, Kudu hunting in South Africa; bear hunting in Romania, Moose in Russia …. deer and boar in Hungary! There is no hassle with accommodation, supplies, transfer or permits as we organize it for you.
Hunting in Hungary
The natural features of Hungary provide hunters with excellent hunting areas with outstanding species and wildlife management almost all over the country. Both the beginner and experienced hunters can find the best hunting opportunities.
Red deer – Fallow deer – Mouflon – Roe bock – Boar – Small game
The Hungarian hunting areas are rich in big game and small game. The Hungarian forest areas also offer red deer, fallow deer, rising pheasants, hares on the run, woodcocks and wild ducks. Various wild species may be hunted in specific hunting seasons.
Hunters coming to Hungary are awaited with hunting lodges or, if requested, even with hotels and catering. The Hungarian landscape and gastronomy offer a unique experience that can never be forgotten.
Hunting in Europe
The nature in Slovenia offers ideal conditions for wild animals. Roe deer can be found all over Slovenia, and there are many deer and boar in the forests of the Pohorje mountains. You can also hunt mouflon, hare, fox and pheasant as well as chamois in the mountains. The rough terrain makes hunting a great challenge and a real experience. There are few places for cover, so the animals perceive movement and scents sooner. It is a challenge for the hunters but it is worth the try!
Chamois can be hunted from 1 August until 31 December.
The hunting opportunities in
Croatia
are made special and unique for hunters by the forests of the Croatian State Forest Company, the national parks and the hunting area of the Zagreb Forestry University from Slavonia, through the Dinaric Alps to the Adriatic sea.
The brown bear, the deer and the hare are native species. Bear hunting is popular in Croatia, its season starts from 1 March.
Spain: The beautiful Spanish mountains await sporty hunters who prefer hunting in the mountains. Hunting for ibex is a special experience as several sub-species can be found throughout the country. You can choose a region and a route subject to your fitness level. You can find ibexes at an altitude of 1200-2000 metres but in the spring you can also find them at a lower altitude.
The rutting season lasts more or less until mid-November and December, so perhaps this is the best time for hunting them.
Romania: Chamois live all around the world, they can be found in 8 large geographical areas: the Alps, the Pyrenees, the Balkans, Asia, the Carpathians, the Caucasus and New-Zealand.
- Chamois hunting: The Roman Carpathians is a habitat for wonderful species. They are black or dark brown from October until spring, but their colour is a lighter rusty in the summer. Hunters can find unique trophies there. The hunting season lasts from 15 September until 15 December. Chamois can be hunted at an altitude between 1800 and 2500 metres.
- Mouflon hunting:
Mouflon can be hunted in the mountains, in a challenging environment. Romania is a true hunters' paradise, offering an excellent trophy quality. October is the ideal period for mouflon hunting in Romania.
- Red deer
Red deer usually feed early in the morning and in late afternoon; this is the best period for red deer hunting. The red deer has excellent hearing, sight and a sense of smell in order to escape danger. They often graze in groups to increase the chance of perceiving danger.
Mountains and forests await hunters on 25,000 hectares and Buzau county also offers a wonderful landscape and hunting opportunities.
- Brown bear hunting in Romania: Europe's largest continuous brown bear population can be found in Romania, within this, on both sides of the Carpathians. The number of bears in Romania make up about 40% of the total bear population in Europe. Watching and stalking is permitted until the autumn, while tracking is permitted in the autumn.
Hunting in Africa
While you have not been to Africa, you just dream about it, when you have learned it, you dream of going back. It will enchant everyone, not only the hunters. Its rich wildlife offers excellent hunting opportunities. Large animals are the lion, the white and black rhinoceros, the elephant, the African buffalo, the leopard and the hippopotamus. You can also find the caracal, the serval, the common eland and the greater kudu. The African culture and the hunting opportunities provide an unforgettable experience to all hunters who decide to go there.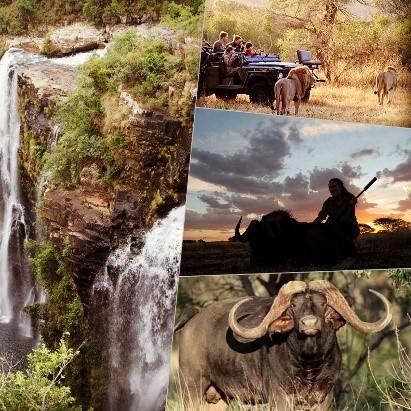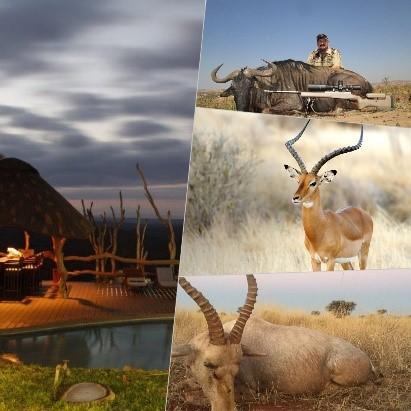 Hunting in Asia
Hunting opportunities in Kyrgyzstan: A special hunting experience that you will never forget! Both the travel and the hunting offer you a challenge. Those who travel here are awaited by a mountainous hunting area 3500-4000 metres above the sea level. It has an excellent ibex population, and the mountains provide a difficult but special hunting experience. The area covers endless hunting fields and a breath-taking mountainous environment.
Hunting opportunities in Turkey: This is the country of luxurious sultan palaces, innumerable memories of lost civilizations, Ottoman mosques and ancient thermal spas. The hunting area of "Travelers"! It has an extensive boar population, rich in mature males. Turkey offers an excellent price/value ratio, first-class services and great accommodation to hunters.
You can also find a great opportunity to hunt Bezoar ibex.
You can also combine your hunting experience with hunting at the seaside.
Hunting in America
Hunting opportunities in Argentina:
Argentina, the second largest country in South-America, has many climates and geographical locations.
It has huge hunting areas providing a perfect habitat for wild birds, big game and fish. Argentina offers numerous sporting opportunities: big game hunting, wingshooting and fishing.
Wild species available for hunting: red deer, fallow deer, chital, blackbird, buffalo, puma, board, wild goat, multihorn ram, wild sheep. The red deer and fallow deer season lasts from mid-February until the end of June / early July. All the other wild animals can be hunted all year long.
Hunting in Greenland: wild species for hunting, Caribou – reindeer – Muskoxen
Hunting in Greenland is a real challenge! - 25 degrees at night and -10/-15 degrees during the day in winter. Winter hunting represents a high difficulty grade. Hunting is possible in the traditional way, it is difficult and tiring, the hunters need to travel more and have to cover long distances with a heavy load. This type of hunting is only recommended to well-trained hunters.